Okay this is what my week has been like. On Wednesday I did a guided tour; Thursday, Friday and Saturday I did children's work each morning; Saturday afternoon I did another guided tour, then got an Indian takeway and had an evening in with Rachael; mixed with the CU Annual General Meeting, and the CU main meeting. The guided tours and children's work are actually more tiring than people think they are, so by Sunday I was exhausted. I decided that I would have a relaxing day of fun. So after Church I went to the Glengower Hotel with Rachael, Rachel, Abi and Sean for lunch. Afterwards, everyone except Rachael went to explore a cave at the base of Constitution Hill, which meant climbing over a gungy ladder and then up the cliff a bit to get into the cave. Rachael couldn't do it because she was wearing high-heels and went home to change them, only to find that she had forgotten her keys. It was made slightly more annoying by the fact that Rachael lives with both the other Rachel and Abi, and they had their keys on them.
We then went to the brasserie in the pier to have some dessert, where I discovered that I do actually like creme brulee. We set off to go for a walk just before the evening service, when I was pooed on by a starling. Every day at sunset thousands of starlings flock to their pier where they roost under for the night. It looks a bit like this: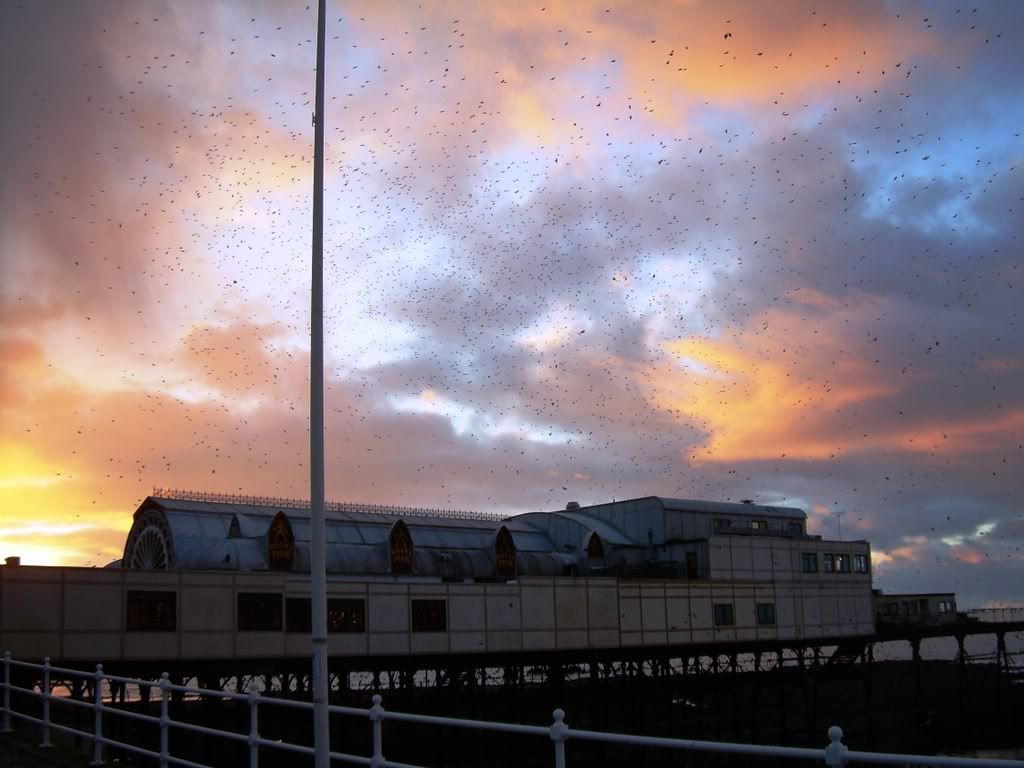 So I went home to have a shower and therefore missed the evening service. So I read my bible on my own. By the way, that photo is my own. Impressed? There are more like it, and you can find them if you click on the 'My photos' link on the sidebar.
Because of my busyness I'm a little behind on my dissertation timeplan. However, it does not mean that I am behind, in fact I'm very far ahead compared to most, but I'm just not where I intended to be. So I'm rectifying it by writing this post instead of about how May is a virginal victim somehow.